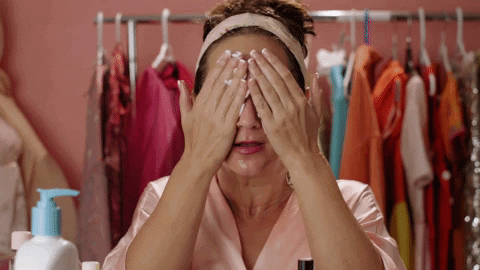 Moisturizing is one of the skincare steps that most people think is so simple, but unfortunately, it is SO easy to go wrong. Common errors range from choosing the right formula to application techniques - it so easy to cause more harm than good to your skin.  Don't worry though, here's a quick guide to moisturizing – follow these steps and you'll see the difference in your skin in no time at all. 
What is a Moisturizer
 Every moisturizer is a combination of the following three things:
Occlusives: Protect your skin and retain moisture
Emollients: Repair damaged skin cells
Humectants: Increase the water content in the skin
Finding the moisturizer that's best suited for your skin starts with identifying what your skin type (oily, dry, sensitive, etc.). Most people have skin that falls in one of the following categories:
Normal

Your skin doesn't get more oily or dry throughout the day
You only experience dry parches and oily skin seasonally
You rarely experience breakouts

Oily

Your face is shiny or greasy by mid-day regardless of the season
You frequently experience breakouts
You have large visible pores

Dry

Your skin experiences dry patches all over
You rarely experience breakouts

Combination

Your t-zone is consistently oily and your cheeks are often dry
Your pores are typically in the t-zone.
Your experience acne and dry patches at the same time
Finding the best products for you starts with determining your skin type but other factors contribute to determining formula compatibility ie. skin chemistry. Everyone has unique skin, but certain oils may be more well-suited for some people than others. You can test compatibly by applying a small patch of moisturizer behind your ear.
Apply routinely
When your skin is dry It seems logical to moisturize it, but it is important to apply moisturizer even if you have oily skin. If your skin is on either too dry or too oily you want to hydrate to help your skin reach equilibrium. Aim to moisturize twice a day, once in the morning after you've cleansed and toned, and then again in the evening.
Don't over-moisturize
Think about it like this: How many of you know someone (or are someone) that can't start their morning until they have their cup of coffee? At first, they had a cup of coffee every now and then and then slowly, over time, there became a created dependence. If you over-moisturize your skin it stops creating sebum naturally, because it simply doesn't have to. Just because you apply more moisturizer doesn't mean that your skin is absorbing more. 
Massage  
This is one of the biggest game-changers in skincare. It may sound like a lot of effort but in reality, it takes two minutes and the benefits are unreal. By simply applying a small amount of pressure in a sweeping motion (as shown in the image below) you will stimulate blood flow, decongest your skin, reduce the appearance of fine line and wrinkles, etc. 
Checkout our Kubra Kay Moisturizers! For more daily tips follow @kubrakayskincare on Instagram and Facebook!
Leave a comment